Since 2001, PokerStars has been among the most prominent online poker brands. The company was one of the driving factors in the meteoric success of its young industry, and always offered strong security measures and customer support.
PokerStars had a strong reputation ten years ago, but that all began to change in late 2006 when the U.S. passed the Unlawful Internet Gambling Enforcement Act. This act made it illegal for PokerStars to accept US players and illegal for US banks to process payments related to online poker.
The biggest online poker site in the world at the time, PartyPoker, immediately accepted and followed this new US law, and left the USA market. PokerStars, however, disregarded the US government and continued to operate in the US. We feel this choice started PokerStars down a road of shadiness which leads us to our opinion today – that PokerStars is a scam.
PokerStars realized it was breaking US law by continuing to accept US players and eventually abandoned the US market. The company lost a lot of money and a significant portion of its customer base.
About PokerStars
PokerStars has been in business for over 15 years. Although the company started as a play-money service only, the focus has been on real-money poker for more than a decade. After neglecting the USA UIEGEA law of 2006, the company reached a settlement with the U.S. Department of Justice in 2012. This settlement allowed PokerStars to return to the U.S. – in Nevada and New Jersey – which had legalized online gambling.
On April 15, 2011, the Department of Justice seized the pokerstars.com domain name, along with fulltiltpoker.com and several others. On April 20, the pokerstars.com and fulltiltpoker.com domain names were returned for the purpose of helping to facilitate the withdrawal of US players' funds.
http://en.wikipedia.org/wiki/United_States_v._Scheinberg
PokerStars was forced to leave the US market at this time.
Prior to the seizure, PokerStars could not legally provide service to U.S. residents, but they continued to for a time because it was profitable and because that law was difficult to enforce with them operating entirely outside the United States. The company is located in the Isle of Man and acquired a European Union gambling license through Malta.
Is PokerStars Rigged?
The most concerning question about PokerStars is whether the service is rigged. Admittedly, there is some compelling video evidence on YouTube of sponsored PokerStars players beating the odds on multiple occasions during a number of big events. PokerStars spends a lot of money on its sponsorships, and it behooves the brand to have these professional players be successful. The nature of online play, however, is that it is more difficult for a pro player to be consistently successful. Therefore, PokerStars has motivation, and the company has chosen to ignore rather than dispute the video evidence.
Keep in mind that PokerStars has no incentive to rig poker games outside of sponsored play. The revenues that PokerStars earns is based on the total pot no matter who wins it. In addition, VIP rewards are earned based on the amount staked not the amount won or lost. For that reason, it is very difficult to believe that PokerStars would rig games on a regular basis, and there is no concrete proof to suggest that PokerStars has done so.
In the end, there are a lot of conspiracy theories surrounding rigged games and rigged decks, but overall it's difficult to believe that PokerStars would actually fix the deck or the dealing of cards… but you never know.
Data Analysis and Breach of Privacy
It is worth noting that there were at least two independent analyses of the PokerStars dealer mechanism that presented data outside the norm. For some, this data was evidence that PokerStars was rigging standard games or at least that the dealer mechanism was not random.
PokerStars did react to this story by providing these studies with more comprehensive data sets to work with. In doing so, PokerStars breached the privacy contract with its players. Although user names were stripped, hand logs are publicly available, and it is possible to associate individual players with the released data.
Does PokerStars Cheat Players?
A much bigger concern of whether PokerStars games are rigged is whether the company is actually cheating players out of winnings. A quick search online will reveal a sharp increase in the last several years of players making complaints about having their accounts seized, bankrolls reduced when making a withdrawal, withdrawals refused, bonuses voided for no reason and so forth.
PokerStars turns a profit on every real-money player no matter how much he or she wins. Nevertheless, there is incentive to be even more profitable in a highly competitive market, and PokerStars would not be the first online gambling service to increase profits by exploiting consumers.
PokerStars does not want money leaving the system, so players that earn profits and routinely withdraw cash from the site are not good for the site.
In fact, PokerStars purchased Full Tilt Poker and continues to manage and operate this brand – a brand that is synonymous with the term ponzi scheme. Full Tilt Poker had rampant cheating going – and this is a fact. Directors of the company took money directly from players' accounts and purchased homes, cars, jewelry, and more.
To this day, countless players and business partners are owed money from Full Tilt. PokerStars did not fully satisfy these commitments even though they now own and are responsible for the Full Tilt brand.
Better Business Bureau
Another point of concern for poker players considering PokerStars is that the company has never received accreditation from the Better Business Bureau. This was true prior to the UIGEA, and it is true even now in the states where the brand has a legal presence.
The BBB does track international companies, however, and although it has not accredited or rated PokerStars, it does have a file for the company in nearly every state. There are a significant number of complaints on file, and we urge everyone to check with their local BBB to consider local experiences with the PokerStars brand.
Is PokerStars Trustworthy?
The most egregious act destroying any remaining goodwill PokerStars may have had came very recently. On May 1, 2015, PokerStars sent an email to its online marketing partners drastically changing the terms of their agreements, causing significant damage to all of their Internet partners for their own benefit.
Marketing partners of PokerStars had an agreement – that they would receive a certain percentage of the revenues that PokerStars earned off players referred by that partner. And that revenue share plan would persist for the life of the player.
On May 1, 2015, PokerStars unilaterally changed the terms to only compensate their marketing partners for only two years.
AND POKERSTARS MADE THIS RULING RETROACTIVE.
What this means is that marketing partners that have been supporting and promoting PokerStars for years and years will lose all revenues from those players. They will only get compensated for players from the past 2 years. For partners that have been sending PokerStars traffic for over a decade, built up a sizable database of players, and developed those players, will lose 90-95% of their marketing revenues.
Basically, this is a breach of contract and PokerStars is more than willing to completely screw their partners.
You can read the full email below:
Email from PokerStars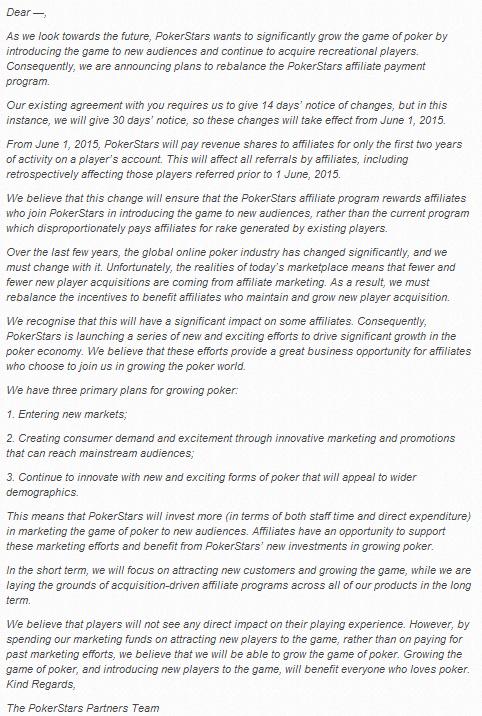 If PokerStars is willing to do this to their business partners, then what are they willing to do to their players?
If you win a big tournament, what prevents PokerStars from immediately changing their terms to not pay you out?! NOTHING.
We believe that all of these poor decisions stemmed from the fact that PokerStars decided to break US law by continuing to offer their services to Americans.
Because PokerStars broke US law, they had to pay huge fines to the US Department of Justice. PokerStars paid $731 million to the US government to settle the charges of bank fraud and evading US restrictions on online poker.
http://www.forbes.com/sites/nathanvardi/2012/07/31/pokerstars-will-pay-547-million-to-settle-u-s-government-charges-and-buy-full-tilt-poker/
PokerStars was guilty – and when online poker became legalized in New Jersey, Nevada, and Delaware, with the potential of California coming next, some laws had a bad actor clause – which disallowed PokerStars from entering the market since they were illegally operating in the US previously.
Amaya Only Cares About Its Bottom Line
Associating with the owners – the Scheinbergs – prevented PokerStars from entering US markets, which eventually led to the sale of PokerStars to Amaya. And this new change of ownership has led to the issues we see today. Amaya does not care about the players or the business partners of PokerStars.
Amaya added a 2.5% foreign currency transaction fee when depositing or withdrawing funds into PokerStars. And it did this WITHOUT NOTIFYING ANY OF ITS PLAYERS. This was just an added tax to increase Amaya's bottom line.
Amaya increased the rake at PokerStars in late 2014! Rakes were increased on cash games, mtt's, sit-n-go's… basically everywhere. Again, this is another tax added to increase Amaya's bottom line at the expense of the customer base.
And the final straw is Amaya's destruction of it's partnership agreements – changing their compensation from the life of the player to two years is utterly devastating to their list of long-established and trusted marketing partners.
If you do business on the Internet or play online poker, you simply can't trust Amaya. Sorry, but we have to call it. PokerStars is a scam.
We understand that PokerStars is the biggest poker site on the Internet, but we think that will eventually change. Too many corporate decisions are hurting the brand, partners, and customers. We see the landscape shifting, but please let us know what you think below!
One brand we know we can trust for at least UK and Europeans is William Hill Poker. Will Hill is one the oldest and most prestigious names in gaming. Read more about William Hill Poker here. Register with your choice of William Hill promo codes for big welcome bonuses.
We also recommend Ladbrokes Poker and bet365 Poker.
Find reviews of additional online poker sites at Poker-BonusCode.co.uk and PokerCasinoDownload.com.
For US players, it's a little more difficult, you have much less options. However, the biggest brand in online poker in the USA is Bovada Poker. We believe that Bovada Poker is legit. There are issues that you need to be aware of – such as the fees associated with depositing/withdrawing, the time frames and limitations of processing a withdrawal, etc. But considering the options for Americans, it's about as good as you can get. Here's a decent Bovada Poker review worth checking out if you're interested. UPDATE – Bovada Poker has now migrated to Ignition Poker. Ignition Poker is now the largest online poker site for USA players. You can read a good Ignition Poker review here.
For other alternatives, please visit Casino Sites USA which provides additional reviews of gaming sites that accept USA customers.
We can recommend Americas Cardroom for US poker. Find the latest Americas Cardroom bonus codes and promotions at AmericasCardroomBonusCode.com
Leave Us Your Opinion
How were your experiences with PokerStars? Let us know.
Average rating:
77 reviews
Apr 26, 2017
I asked them for an interview...
I run a video production company and wrote to Pokerstars asking them to an interview to answer the questions of whether or not it was rigged etc.

I know the email got delivered, but I never received a response.

It is astounding how they have NEVER responded properly to the enquiries that specifically relate to their deal/outcomes.

Yes, their deal may be certified, but they never state how many people - most notably the Russians - have cracked that deal and can "see" the cards.
Apr 26, 2017
I win everywhere else, except STARS
I play poker - For more than fifteen years. I have played at EVERY poker site. I have WON at ALL of them. EXCEPT Pokerstars! How the hell does THAT happen? How can I win at EVERY other site but NOT at Pokerstars? As a Poker Pro said, he was able to beat 1000's of people in a FREEROLL on Full Tilt to gain entry into PS tourneys, but NEVER WON - this was a PRO! He accrued thousands of points to get these entrants but NEVER made the money in ANY of them. When the pros start saying it stinks, you have to take notice.

I've occasionally put $10 into PS - I play PERFECT LIMIT poker - yet, NEVER WIN. How does that happen? Seriously, I play ABSOLUTELY BY THE ODDS, YET NEVER WIN - ALWAYS OUTDRAWN BY IDIOTS.

Someone else noted here, that you have AA.... Hit an Ace on the flop after capping it preflop and yet some moron has still followed you to that stage with J7o or 69o and ALWAYS makes his MIRACLE on the TURN and RIVER. Usually, it's a Russian. I've seen Russian players call 72o to a capped PREFLOP and FLOP and still catch 7 and a 2 on the turn and river... They KNOW it's coming - there's NO OTHER LOGIC to their ridiculous calls. NO NORMAL POKER-PLAYING PERSON makes those calls unless THEY KNOW they're winning before you know what cards are shown.

Yet, Pokerstars continually says their software is validated for a "fair deal". What they DON'T SAY is how many bots or players have CRACKED that deal and KNOW what cards are COMING! Let's face it - why else would you call 72o on a CAPPED PRE FLOP to a PREFLOP RAISER qith AK / AA if you didn't have confidence in what was coming...

Yet, if you raise this with PS, they just say over and over how certificated they are.

BULLSHIT. I've played a LOT of poker - online and live... and I've NEVER seen the kind of miracles that I see at PS every other hand almost.

Seriously... I won at EVERY OTHER SITE, EXCEPT PS. I entered and won my first live tourney. I am NOT a poor player, by any means. I'm not the best either.

But ONE THING I KNOW is that if you PLAY the odds, YOU SHOULD WIN. The ONLY place this DOESN'T HAPPEN is at PokerStars.

Pokerstars is rigged - they should prove it's not, rather than us have to prove it is. Because, so far, the overwhelming evidence detailing rigged plays has been ignored totally by them.
Apr 17, 2017
From rigged to obvious joke
I tried pokerstars some years ago made some statistical analysis and concluded that the site was rigged.

A particular player that I wrote about in my small report suddenly made his statistics unavailable at Sharkscope when I wrote about him. He was a real psychic. Win AK vs AA, win A9 vs AK all the time, never losing when he was ahead in preflop allins. Nearly always winning when he was the dog.

I thought I should try it again just for fun. It was not fun. It was ridiculous. How they help the small stack fish. How the miracle card turn up every fugging time for the bad player. How the preflop allins always ends in a hit and mostly in straights and full houses. You wait and wait and move in call with AK when someone moves in with jack 7 and the board is jack jack xx 7. Another tournament ak vs j7. Then he only hits two pair on the flop. Move in with 10 3 against aa and hit straight.

Well. I want to talk with a person that says this shit is random. WE can sit and play together and discuss. Does it really exist anyone on this planet that thinks this garbage is random?

I have studied statistics full time for nearly one year in the university and passed my exams so I know this site is bull.
Apr 17, 2017
fishy
Firstly, I would like to say that poker as a game is as gay as it gets, were you can get f***ed at any time. So many ways to get bad beat. The way they make you lose cash online is by constantly giving you losing AK against A4, or AQ vs AJ... I have been losing like this in up to 20 tourneys per 2 hours in a day. They dismiss it by explaining how you just got the short stick today but if we analyze 1 mil hands in period of 1 month then the math will prevail. Fair enough. However, it's beautiful how they manage to get you losing in a tourney where you play good and tight. Because they know they can't make put your money in the pot for nothing they will deal you 99, you will hit a flop like 9 7 3, so obviously you bet and the guy next to you goes all in. What do you do??? you pay of course because who in the right mind will fold and you see how the guy is being dealt runner runner colors. There is of course always the idiot excuse as well. I had a situation after 4 h of playing to raise under the gun with AA and the guy on the button with half the stack not pressed by the blind or something decides to go all in with 89 off and hits 882 on flop. How peculiar is that. The worse of all is that they always do it not in the beginning in some small tourney but in a decisive moments against stacks that can cripple you. Something else they do as well (maybe it is part of the 'fairness' or 'faire chances' plrs get, not sure what they call it) but they always put you on a table with stack that are your size. Once I was playing a tourney of aprox 1300 people and in the first 10 min I had huge hands and very good pots to make around 60K while the average stack was 3500. So I am being placed at a table with this plr who has 62K. he is 1st and I am 2nd. I am being dealt KK and he is was dealt AA. I could believe that this could happen. To be moved at a table with the other huge stack in a tourney of 1300 people and to get KK against AA. Surely I was all in at a point and I lost. What are the odds. I am sure there are superusers grinding for the house
Apr 14, 2017
Rigged
I dont care what anyone says about it PokerStarsUK is rigged. You are constantly given cards to entice you into the pot and draws to continue. It is impossible that they are randomly giving out cards. I continuously see 5 or more players all in ALL holding face cards. Mathematically this is bizarre. I have screenshots of bad beats (as the critics call it) where I'm being reraised preflop holding jj and they hit 2 pairs on the flip holding cards like 10,4 off suit. I play live poker at a high level winning thousands and I will never put another penny into online poker. It's a scam and it's rigged.
Apr 5, 2017
River Stars
While I enjoy the game in theory, this site (poker stars) I have come to the conclusion that it is a scam. Over a 5 year period and with multi- conversations with them directly, I have found that when I lose my chips, its in most cases (95%) I lose on the river to the higher stack. Most common AA (holding) to only lose to 8-3 or some ridiculous cards, with the dagger coming on the River. We have a saying, the name should be changed to River Stars!!! The games I play are .25 with 90 players, so the damage is minor. I would love to find another site that I could feel confident in its honesty.
Apr 5, 2017
Noone can prove it is a scam, but there are things to consider...
I believe this article is well written, but it is lacking data. Now, I have been analysing and compiling my own data, and i got to say, things look pretty unbelievable.
I play live poker regularly with my friends, both cash game and tournaments. Bad beats happen, but theory of large numbers works out in the end. In Pokerstars, it just doesn't.
I could spend a bunch of time writing all my statistical analysis here, but there is no point. But I do have to point out some of my most interesting findings:

1. 93% winning hand on turn ends up winning on river 40% of the time! This is based on several hundred hands with these specific odds, which make it pretty much beyond doubt that it is not a coinsidence.

2. Just over the last two days, I had AA three times in 50 hands (yesterday) and twice in 20 hands today. Pretty remarkable. Going every hand all-in pre flop had one fold, and 4 calls. Each of those calls WON, 3 times against 88, one time against 33. Now, even if you consider there are thousands of hands being delt every second, there is still no chance in the world for this to happen to a single player.

Noone can really claim that the site is rigged, but there is really no quality assurance to make sure it isn't. When compared to real poker, there are just way too many unbelievable events that occur. In any case, if you like poker, my suggestion is to go play it for real, and not give money to scam sites.
Apr 5, 2017
Not all people win
Love this losing players complaining...of course if you are losing you will rather blame others, software, phase of the moon or whatever. Run your own stats from hand history, people tend to forget when they win as favourites but remembering losts against the odds. I did it as well, they will send you your hand history, so if you have time and are willing to put some effort, go on. After I went through this, I found out nothing extraordinary, all ok with maths...so for you complaining about those bad beats and stuff, learn more, play less hands. And finally: there can't be winners without losers...
Apr 5, 2017
Scam
How about the fact that the recent pokerstars update that was mandatory rendered it impossible to contact their support team
Apr 5, 2017
none
On free play why do you have to wait a long time to play after you have lost one stack? I had to wait 8hrs before they would give me another stack. That's terriable it's not real money
Apr 5, 2017
Its either SQL injections, or fraud being committed by the ceos.
I Cannot stand online poker anymore, Were their is money to made, You can be 100% sure their is fraud going along with it. I happen to know a thing or two about Microsoft software flaws, and I can honestly say their is either a group of kgb hackers, taking peoples money through sql injections, or this site is running a international scam that only favors those who are in on the scam. I know the majority of "so-called professionals that made a career on this website are all of "Jewish" decent, which makes me think this is nothing but a Ponzi scheme and were all the goyim". But no their not racist their willing to fuck over anyone not in their circle. I would like to believe its lack of knowledge and sql injectors taking advantage of the sites poor software. but I strongly think its fraud, with mass advertising promoting you have a shot of quick money. The truth is earning money and saving it, is the only way to get ahead in life.
Apr 5, 2017
Fixed games for sure
Okay so first of all let me start by saying I played my 1st game of poker back in 2009 or 10 and just fell in love with the game...before this I used to play 'teen patti' with dad as a kid in India so I know a lot about cards.

I completely understand that, in poker, at times even 2 7 offsuit can destroy pair A A.

But man pokerstars has a complete differwnt vibe to it.
Now I have won a few big tourneys that I am very proud of eg
Their weekly bronze freeroll...I ended up making the final table on that tourney it had 30000 entrants.. and this is the last tourney I won before finally closing my acount with stars due to opponents hand winning out of nowhere specially when its a big pot.

Just in this tournament 'bronze star' I flopped AA and was near button and had to call an all in so I did the guy had 66
Flop A6k,J,6 he had a four of kind on river and my full house fot beat... however I survived the beat and had chips left but got knocked out on the 9th pos.

Another example is a 30k bounty builder.
I had made the few last tables and went all in
After I made my flush on the turn and got called but a three of a kind but on the river he hits a full house. I lose all my 170k chip stack.

Another big tourney but this was near the start.
3 people we in the pot and we all had flush and that too on the flop so there were 6 hearts already dealt to players and 3 more got flopped do thats 9 hearts of 13 already out, who knows what the other players had

Now please realize, I know things can be random and I do know when its random but you will know when its a setup too.

There are many more times some seedy stuff has happened.

As for my winnings I have won around 3-3.5k and lost sbout 4-4.5 so -1000 loss, you cant say I am a bad players because I did win tourneys even got 1st place on $11 4k prizepool and more wins.. I will play poker on future most probably live.

Look man its an online gambling company how much morals do you expect them to have..even the purest of people are somewhat corrupted and this is like I said an online gambling company..who is to say they dont have a few selected bots as poeple that play all the big tourneys for them..
Feb 16, 2017
Of course it's a scam
I only play the play money games and they are most definitely fixed so there is no way I would play with real money.

I have been playing for a few years and I now know at what time of the day they will let me win, in fact almost guarantee I will win, no matter what cards I get. I also know when there is no way possible for me to win, no matter what cards I get. It is obvious that it is programmed that way to make you feel like you can't lose and will eventually switch to the real money games.

Anybody that actually uses their own money to play on Poker Stars is being played for a fool, it is a computer generated program that is programmable to do whatever they want it to.

Play money is fine but don't fall for their scam.
Feb 9, 2017
Busted
Stars is a scam.

I read the comments here and just the same thing happend me. I think: Soon I have to not be taken out becauce of bad beats...but it wil never stop.

After a loong downswing at PS I got, again AA and thinked: How mutch will I loose this time: Flopp was AQT spades. Fuck..many spades here I thinked...I bet...get a call..turn: Q..NUTS HOUSE! Yess...finally MY turn I thinked. I hope he has flush...we went all in...and he show up ROYAL! I cant belive how many badbets happend online and at stars.

Last day in 2 tournments AK VS AQ on the flopp...and 2 times runner runner QQ....

I thinked: I play some cash..tournments are unreal..and one of my first hand at cash table vas AK...Flopp AXX...we went all in head up..opponent had AQ...runner runner QQ...again!!!

Today played 3 tournments. Hand 1: AA vs TQo...I bet on flopp...he put me all in as a bluff...and hit 4outer strait on river. Hand2: MY 00 against 55..blank flopp..yes I thinked...finally! until river gives a 5 lol. Hands 3: MY KK vs TT...blank fopp...all in..river..T!! Day over!

It is not possible to win at stars. I play OK poker, MY vpvp is around 18-19...and I have some idea than low vpipv get punished. So I guess the deck is rigged AND something in the software give u bad situations when u have OK VPIP and play ok. U get punished.

I have played livegames for 10 YRS and I am a winning player live. AT Stars, after 250k played hands...in minus. You win a little..than down..up.down..but in the long run u loose u money and have to do a new deposite. After 250k hand in 2-3 mounts I recognice a pattern what happend. Anyway how good hands u got...When u in loose 70-90 % favorites around 50-60 % of the time again and again..something is veery wrong.

It is very very dificult to play poker against human AND sowtware ( and maybye bots as number 3? )

Hadsup agaist 3 opponents...difficult ha ha 🙂

Pokestars is a SCAM!!
Feb 9, 2017
Pokerstars
Okay guys here's my view.
I ve read a lot of reviews from unhappy people and to be honest I was very dubious of the site as I have been playing for only a few months and spent top end hundreds of pounds for the entertainment.
I'm not a big player just like to enter tournaments up to $20 or so.
Last Sunday I played in a $5 buy in as usual and thought nothing of it to be honest except another quick game of poker to past the time, however I finished 2nd and cashed out $2200!! I was as shocked and excited as anyone who has ever reached the final table let alone come second.
Whilst heads up I hit a straight on the turn and went all in.
The guy called me with a pair of sixes and end up hitting a 4 for a bigger straight.
Who would call that!!! Well he did. Tosser lol!

Anyway I was still over joyed with winning $2200.

Now the next thing pops in my mind.
Am I actually going to get the money? That was the most important thing in my mind all day.
I looked on line and it states that it will take 3 to 10 days after clearance from Pokerstars. So I'm thinking oh shit. its gonna drag on and I might not even get the money.

Well its 3:30am in the UK on a Wednesday morning and I have just checked my bank account and all I can say is ' Thank you Pokerstars!'

Yes you can win and yes they have paid me a lot quicker than expected.
So thank you again Pokerstars.
Jan 25, 2017
shooting stars
A Random Deal Yes and No..

okay rigged is not the right way to look at it.. the shuffle comes out the same ways every time, nothing like a normal deck of cards though.. and it is completely random but random as in a set up hand could come up any given time but trust me its not out to get you in particular lol, I never used to think that way because its stupid when u think about it and I am 1 billion percent sure stack size does not have anything to do with who wins at all but time and mouse clicks can and will change the outcome of the next card.. yes I completely agree too that the odds don't add up the same as a real deck at all, like you are more likely to hit quads online in a 100 hand session not because your "playing a lot" because that's the rare set up hand.. and yes sorry to burst your bubble and theory about every hand being set up lol poker is evil live or online you are gonna get insane beats bad and good but set up hands do not happen often and on top of that nobody knows when its going to pop up so who cares.. everyone has the same chance of winning but I also like to add if someone did not know ps did this and thought the shuffle was always random in the way casino poker is random then that person could lose his house, family, car, all his money and then some, so be careful.. flushes and str8 occur way more often than a normal game... I have to laugh 1 day my friend who does nothing but shoot live poker seen me play and he said I'm stupid for the way I play.. just a bit later that day he agreed I am super top tournament and sit and go player.. and of course this pro tried his hand at my games and failed miserably again and again and again lmao I watched him fail for some time kind of laughing in my head but he was starting to dump the whole account so finally I kind of told him how I thought it worked anyway and bam that day he takes down the big 4.40 in 4'th place ! and not by luck or that much skill but only from knowing what to fold pretty much and when to fold..
Jan 25, 2017
Definitely Scam
Today, I have closed my pokerstars account of nearly 10 years. My record with Pokerstars was spotless UNTIL I ventured into play money games just for the fun of it. Of late, I have had a total of 5 play money players approach me and offer to sell me chips at $25 for 100 million worthless chips. When one admitted to being a cash player using a different account for play money, alarm bells went off. I reported directly to security almost three months ago, and have yet to receive a response. The player in question is STILL playing both accounts. It's obvious to me that pokerstars actually approves of this for only one reason - such players add greatly to their bottom line by selling play money chips to fund their cash accounts. Brilliant!!! Until now. This has all been reported to Police Authorities as well as the gaming commission. Withdraw and run fast is my advice on this one. It's about to implode.
Jan 25, 2017
Statistics schmatistics. For those who have played a lot of live poker, the shit you see on PS often makes no sense. The number of times I have been dealt the exact same hand two hands in a row is staggering. Unfortunately it's always shit like 48, not AA. I have seen 4 straight flushes in 8 hours of playing. I have seen quads numerous times in quick succession. I often see AK vs AQ AQ AJ. But the most obvious thing that something isn't right is when you're in a tourney and you notice some guy is folding hand after hand. You think he's tight right? Then all of a sudden he goes all in under the gun with 8 3 off suit. Now let's see a flop. 8 8 3. How you can possibly explain that sort of play?
Jan 25, 2017
Deal Making
Playing in a tournament on the site I agreed to do a deal with an opponent to split the $1500 prize money on offer. We had similar stacks and both agreed to go all in. I lost and my opponent jsfernandes failed to transfer funds to me. I E mailed Poker stars 3 times and after 6 days eventually got a patronizing and condescending reply saying there is nothing they can do and that I should not have agreed a deal.The conman gets off scot-free. I appreciate I may have been stupid and naive but will never play with Pokerstars again. They have no interest in ordinary respectable members of their site. If any one knows js fernandes give him a good kicking from me.
Dec 31, 2016
Simply crooks
PokerStars are most definitely fitting up their customers .. this is the one reason and the only reason you need to know .... they refuse to be independently audited !!! Simple !! If they were legit .. they would bend over backwards to assure their customers and future customers of the legitimacy of their site . An unregulated and nonaudited gambling site .. wake up !! .. I could rant about the bad beats , refusals of cash outs etc etc etc .. but the above says all that is needed to say . They should all be banged away especially the celebrities that take money off these parasites to endorse them . Wake up people !! one way or another they are stitching you up !!
Dec 31, 2016
pokerstars workers.
regarding the guys (the team) who says all the site is just one person
and is surprised they havnt been sued yet!
well
you should be sued for your stupidity.
and your criminal intentions.
and one day divine justice will cach up with you
in one way or another.
on any site talking about pokerstars
there is allways a group of people trying
to ridicul who ever says scam or rigged,
and allways with the same arguments, that they are
superior winning players and the others are not
they try to make you feel is your folt, for all the aggro
players must go through.
obviously is a public relations team payd by amaya corporation,
just like when they buy advertisement, or pay the tecnicians to inprove and find better ways to scam the players.
they are not doing a good job as more and more people
will not chose to ignore the evidence any more.
and soon the all castle will come crumbling down.
you can fool some people some time
but you cant fool all the people all the times.
Dec 31, 2016
POKERSTARS IS 100% LEGIT. 90% of poker players lose, 5% break even, 5% win. I have been on ps 5 years and never had a losing month. I have cashed out over 750k in 5 years and i still consistently win. Poker is more than winning with the best hand or fading a 3 outer. you need to do more studying and less b*tching. gl u 90%ers
Dec 31, 2016
Response to Wizzadd
In response to Wizzadd: By written in the same style, do you mean in English?? Ludicrous to suggest the reviews are all written by the same author. The styles are quite clearly different and surely you can recognise that it's not beyond the realm of possibility that more than one user has suffered bad experiences on the site. Granted, perhaps there's some confirmation bias as it's more likely that someone reading this site will have been looking for confirmation of rigging in the first place but to allege it's all written by one author is just dumb. Plus, your comment got published, so if it was all controlled by one person then you would be that person which doesn't really make sense now does it..

Also as far as I can see the article merely presents facts and interprets them, hardly a suable offence! It expresses opinions and opens the floor to debate, which it is allowed and protected to do so by law. It doesn't make any unfounded allegations so there's nothing it can be sued for.

Finally, as someone who's also repeatedly suffered at the hands of PS, I was intrigued to read from another site's comment's section the following, and I quote 'that Imperial College London had analysed over a 100 million hands from various online poker operators and noticed the same predictable patterns of manipulating hands to maximise the rake returns of the provider.' I've no way of proving this and I'm not alleging it's true Wizzadd, (God forbid or else I could be sued couldn't I!) but it's interesting to see all the same.
Dec 23, 2016
BullSh#t
All the previous "reviews" are written in the same style, and obviously written by the same author - probably whoever opened this site. This site is obviously just someone with a beef against PokerStars, and in no way is truthful. I'm surprised they havnt been sued yet!
Dec 23, 2016
Yes, very much rigged.
I've found the comments here fascinating. I've always strongly suspected card rigging from my years of appalling bad beat experience on the site, but I kept coming back for more (almost masochistically), trying to convince myself that PS wouldn't risk being shut down when it can generate significant revenue without cheating. But when greed is a factor (and just look at the checkered history of some of its key owners/managers), added to the fact that the site wants to maximise bottom line, AND it can use whatever tools it wants to do so without being scrutinised by any regulatory body (think FIFA for instance), you have a motive and a means.. Combine that with the huge catalogue of anecdotal evidence / user complaints and the rigged theory starts to look a lot more compelling.

My experience with the site echoes so many of the comments here. I've always been surprised by the number of action hands for instance and how bad beats tend to accelerate on the bubble in tourneys (particularly for shorter stacked players). Clearly, this is supportive of encouraging greater sized bets to maximise rake and speeding up tourneys for the same reason.
I've also always noticed that after a withdrawal, my run of bad hands skyrockets, to the point that it can no longer be coincidence (we're very much past the sigma events of improbability). Perhaps the site believes that it can subconsciously condition players to keep money in the site by punishing those who take money out. Looking at how they've behaved in the past (i.e. with the online marketing partners), we can't put anything past these guys.

I've personally lost thousands of dollars on the site but thanks to this page, I've finally woken up and smelt the coffee. I'll be terminating my account and sticking to live card games that I know and trust, and hoping that one day justice will be served against these criminals.
Dec 23, 2016
pokerstars is a scam
Amaya CEO David Baazov Faces Five Charges of Insider Trading,
Quebec's securities regulator, the Autorité des Marchés Financiers (AMF),
have filed five insider trading charges against David Baazov, CEO of Amaya Inc.,
the company that owns online poker sites PokerStars and Full Tilt.

The charges stem from an investigation launched following the acquisition of PokerStars and Full Tilt
by Amaya in a mega $4.9 billion deal.

and do you really think someone like that,in charge of a company worth BILLIONS,
cares more about the players or poker in general
than his share holders ?
do you really ?
i dont think so
im even surprised that you people are surprised.
is just natural in this world of ours to put money first.
you would do exactly the same if not worse.
and we are still here questioning if or if not ????
we are idiots arent we ?
i mean even the rats in the holes know by now, and we are still discussing the matter.
the thing is we are addicted to the game like drugs addiction, smoking sigarettes, alcool and so on
and so we try to find a logical reason for our actions.
in order to feed our addiction
and they know it, so they are not worryed about it we are faithfull customers no matter what.
everybody knows that sigarettes in the long run will kill the smoker
but they still smoke.
well, the sooner we realise this the sooner we get our lifes back.
peace and prosper
Dec 19, 2016
FUCKING CON ARTISTS
I have been waiting an absurd amount of time for a cash out from these fucking goofs. They allow you to transfer money to another player. I transferred money to my roommate and now they're asking me how I know him, whats our relationship and havent answered my emails in weeks and will not release the funds. They're a fucking joke.
Dec 19, 2016
Ripped Off
I am in the UK.Used poker stars for the first time. Received no deposit bonus. Sent three messages asking where it was. No response. Finally, sent a third one saying I would ask my credit card company to refund my money if they did not reply. I was IMMEDIATELY frozen out of my account. They got the messages but clearly chose to ignore honouring the bonus and chose to ignore responding to my messages. They froze me out and I cannot use the Beat the Clock bonuses I am entitled to even though they have not refunded me my money, so technically, I am still entitled until they do so. And for the record, the Beat the Clock is rubbish. You can never play as it is always full. I requested info about this too and was again ignored.

Their games are absolutely rigged. Without a doubt. I had the worst hands all the time. ALL THE TIME! Could barely win a hand. They are using bots and fake players to make sure you don't win.

I am contacting my credit card company to charge back to Poker Stars for fraud and am reporting them to the ombudsman.

VERY DODGY DISHONEST COMPANY. DO NOT PLAY THERE!
Dec 19, 2016
Short Stack Almost Always Wins
Hi Guys, as a Gold Star in PokerStars, perhaps my opinion may have some value. I have been a regular player for the past 5 years, I have finsihed second place in the Saturday Scuffle, and made it to the final table in many Medium/High Bounty Builder tournaments. I am quite familiar with the software...or hardware as they call it. However, never finished a tournament in first place..

I play Hyper SNG's & Tourney's. Never was much of a Cash player. One thing I notice, is the smaller stack almost always, always wins in a show down, against the odds, on the turn or the river. Many times I will call all in on a high pocket pair,( ie JJ or QQ) and i will get called with a 6-7 or 9-10 off suit. (You know, put serious pressure on the small stack to beat him out) Next thing I know, they flop absolutely nothing, then the turn doubles their outs and boom a straight on the river. This scenario is very similar to what Mike G says below about Spin and Go's. I find I almost always get beat by the smaller stack there too. What has me in question, is in Poker Stars terms and conditions it states all players will play in a 'Fair' environment. (Don't know the exact section, but its there if you want to look) This is a 'flag' for me. As an example, Does it seem like a fair environment if everyone just goes all in as in shootout satellites? This is what makes me wonder if their algorithms will pick out 'bullies' and deal em a bad beat. Another reason I am lead to 'look' this way is also due to a you tube interview with Poker Stars head of communications. He said that there is 'hardware' to randomly generate numbers and there is also USER INPUT that can affect the shuffle. So if I have this clear, a players previous call, raise or fold will affect the random number generator. This kind of backs up my theory about dealing 'bullies' bad beats.
Overall, I have won a lot of money, but I have also lost a lot of money. I feel that my playing experience gives me an edge against new comers because I have a 'database' of my own that helps me determine the 'poker stars odds' instead of the real odds of winning a pot. The main thing I've noticed with No Limit, is it only takes 1 hand to lose the stack of 1000 hands.
Dec 19, 2016
Hand rigging: highly unlikely
This is more a response to the comments claiming hand-rigging than to the review itself, which accepts that it is highly unlikely.

In addition to the regulation, it is worth noting that that a large group of online professionals pool their hand histories and subject them to sophisticated statistical analysis. For the big-brand, regulated sites they have found nothing of concern and have concluded that the dealing is clean. A large number of serious professionals play PokerStars -they wouldn't do this if they thought it was rigged.

Amaya's business practices are another matter, and the issues raised in the review seem legitimate cause for concern.

But the evidence is strong that the dealing is clean.
Dec 2, 2016
Pokerstars is definitely a scam
I have been trying to convince myself to DELETE Pokerstars.. I can not believe how many bad beats I have gotten in ONE night. The Spin and Go Tournaments were the last straw. If you are not familiar with the format you can buy in for up to 25 dollars and you play 3 handed for a random pot....the most I've played for was 150 to the winner. I have played 10-15 in a couple of hour span and received against all odd beats. Runner runner quads against flopped sets in a HEAD TO HEAD match? Aces versus a pair of 2's heads up and they flop quads...its insane. Hands I've never seen live. Theres one particular screen name thats come from behind in like 5 different Spin and Go's where he has 30 bucks left and I have over 1200 and he comes back with bad beat after bad beat or KKs vs AA's in a heads up match...it is so God Damn frustrating. I've lost over 300 in the past 3 days. I decided to search for some complaints and found this article which has now convinced me to DELETE Pokerstars. The only thing I would like to correct in this article is the fact that Pokerstars does have incentive to end the tournaments quickly because they know we will sign right back up for another one. They make a buy in fee and in the Spin and Go's they sometimes make 25 dollars which if you add that up is a lot of money. If they crank out 50 Spin and Go's in an hour thats 1250 to the house AND if that certain screen name is actually a Pokerstars BOT/Employee they are making a killing just in the Spin and Go's. Its discouraging but I think its time to wrap up my online experience and go back to the Live Poker rooms.

Thanks
Sep 20, 2016
FTP-Bad Beats
I am the same way. I play through Fultilt poker and have played pokerstars in the past. There are so many bad beats on both sites. I really feel we are playing against someone who not only controls the cards but can also see all players cards. My theory is there are players who are Full tilt poker employees that play under aliases on the table. What does pokerstars have to gain? The employee on table puts the money into the pokerstars account. We have no way to prove it. I have pushed in with a pair of aces and have been beat with 5 and a 7. There should not have been a call with a 5 and 7 at a regular table. I left the sites many times then come back a few months later. But after reading this article I am now supported in my feelings to never to go back. Don't think they can't put players at the tables and you don't know who they are.
Sep 20, 2016
Pokerstars IS a SCAM!
I have been playing on Pokerstars for a couple of years now. I noticed a long time ago that there is definitely something not right in the dealing. Many times, especially in the last few months I would get the exact same hole cards, even the same suit, 2 or 3 times in a row? And more then once in the same day this would happen. Pokerstars tells me that SEEMS to happen more online because of the amount of deals the computer makes compared to a Human dealer. They say it happens seldom with a Human dealer because they will only deal hundreds of times in a night but the computer deals millions of times in a night so it is going to happen a lot more often? Someone needs to do the math! When you questioned Pokerstars on any of this you get a very scripted answer thats nothing but BS. I also noticed when I started wining more tournaments it became harder and harder to win with a really good hand. I would have a full house and get beat by a better full house or 4 of a kind! Now I know it happens but not as consistently as it does at Pokerstars. It's the only online Poker site that I am afraid to go in with a pair of aces! The biggest slap in the face is it is so obvious and no matter what the pokerstars staff won't even agree to check into it! I always got the answer that they had just been inspected and everything was above industry standards. They obviously have many glitches in their system. Several times I have been switched from table to table none stop 3 to 4 times in a row and by the time I got to play again I had missed 5,6,7 hands while being switched from table to table. I have sent them screen captures, Video's of hands, including a few I should have won or tied but lost! that's when I packed it in with them. I will never play for real money on Pokerstars again while they continue to ignore the complaints and tell us how above board they are. The problem is it happens at other sites also. 888 for example. I was playing there last week in a cash game and I noticed when I won a hand I was not getting the full balance that I won credited top my winnings! I started marking it down as I was playing and I won $45.00 that just disappeared while going from the pot to my hand! one of the other players even noticed and mentioned it. When I confronted them on it they said they had no record of it and I could go check the Hand History. I spent hours going through all the hands I played Comparing with screen shots I had taken and never found the screen shots? Gee I wonder where they went? The one that did it for me is a screen shot I took of a hand I clearly should have split the pot with the other player but somehow I lost?? I had Queens and 4's he had queens and there was a pair of 9's on the table. Tell me that's not a split pot. I sent them the screen shot a week ago and have not heard back yet! I honestly don't know where to play Poker for real money anymore. The other frustrating thing is hearing so many other players complaining during the game but they just keep going back for more? Tonight I decided I would search and see if I could find anything regarding these problems and I was pleased to find your website. The players are the only ones who can do anything about it, unless your a gluten for punishment. And there needs to be a more strict and impartial Governing body. And just so there is no confusion the 4 Star rating above is agreeing with Pokerstars being a SCAM!
Sep 14, 2016
pokerstars review
i have recently takin 2000 gbp from pokerstars and am wondering whether to play again, i understand there is a lot of bad beats and have had them myself but also i think there is a way to beat the software by constantly playing good throughout the full tourney,sng etc. one bad play and thats it the software wants u out or for example when u are short stack and can only really go all in this seems to be when the bad beats happen they need runner runner and hit i think this is because the software wants u out. basically all i want is to play a legitimate poker site where i can grow as a player and make a profit for good play. over and out
Jun 21, 2016
They Cheat
The bad beats that happen in big play money tourneys is astoundingly bad. I play at local casinos and have never witnessed what I see on poker stars. I will never, ever deposit another single cent with these crooks. I believe that many of the "players" I have been up against are in fact bots. I have tried communicating with them and get no response. You are totally correct in calling them a scam and I'm done with them.
Jun 21, 2016
integrity?
I have purchased approximately Three thousand USA dollars to buy play chips at poker stars in the last 2 years ,as of right now I have less than 10 million in play chips .It's always 1 bad beat after another ,or really bad cards winning against my good cards . I have e_mailed play poker about all the losin ,& the fact I am no where near having an account there even after spending three thousand dollars to have an acctount ,in facxt after each time I e_mail them I lose more ,so I've stopped that .My husband had an acct, there & was same thing with him as with me ,he threatened to call our attorney General here in our state ,& poker staRS CLOSED HIS ACCT . So I now know that there's nothing I can do about this ,I know i'm addicted & they also know i'm addicted ,but enjoyed reading what you have written here .Thank you .
Jun 8, 2016
poker Stars dealing software
There is no way that a shuffled deck of cards could ever deal so many repetitive cards as they do at PS. Every time I play at PS I notice that I'm getting a certain card over and over again. This has bugged me for a long time. One sitting it will be something like 3s for example. I will get a 3 in my hand over and over to the point that it would be impossible to do with a real shuffled deck. Next sitting it might be Ks or Qs but it's always way too many to be a legitimate deal. It's like 6 0r 7 out of 10 hands with the same numeric card repeating in hand No way is that a legit deal. The dealing software sucks balls and I'm hereby done with PS.
Jun 8, 2016
Scam for sure!
It is just for sure a scam. I was doing pretty good in big tournaments 4000-10000 players. I won 2, 2nd 2 times and final table maybe 10 times between january-april.Low stakes, buy in 3,3-7,5$. Then i started playing spin&go´s. There is just far too many action flops... its 3 max tables, but i havent even seen so much full houses, straight´s and flushes at the same time in 9 max tables. I made complaint about this issue to pokerstars with calculations. After that it was inpossible for me to win anything anymore. I just would like those criminals out of business. I think its purpose is just to make a lot of andrenalin rush and that way to keep people playing. I study really hard to become full time poker player, but these scammers ruin it.
May 18, 2016
Pokerstars is a scam
Pokerstars is nothing but a joke. They are clearly rigged, and I would stake my life on it. I will not, however, stake any money with the scam site that is Pokerstars. If you play enough poker- which I have- you know when something is not right. The cards,or deal, or "random" number generator, whatever you want to call it, are not random in any way. I have suffered too many ridiculous beats- many in a row, many for days on end, to believe the site is nothing but a cheating, swindling scam. I will never play there again, and I truly hope they get their sorry asses shut down.
May 18, 2016
The biggest heist ever!
Pokerstars is rigged, thats a fact! - Amaya CEO David Baazov Faces Five Charges of Insider Trading and my best bet is that when the EU gaming commission realize that European gaming industry is losing a lot to those corrupted players on the market, they will shut down the entire operation. Pokerstars will be remembered as the worst within the gambling industry soon.

My advice is, do not deposit or play there. You will NOT win. They'll make sure you lose .. A LOT.

Pokerstars is rigged, I'm a pro and have been playing for 15 years online I see the difference. Its not that a lot of bad players causes the beats, the bad players does not make $1K + buy ins where I play.
May 18, 2016
Unregulated, Unaudited, 0 legitimacy.
As the title suggests. Same company that's unregulated, (Cigital does not count) running the decks. It's not fully audited, only a very small portion of what they handed in and its offshore in tax evasion areas. Sorry but the amounts of people complaining isn't a coincidence. Its a scam site. Steer clear. Just look into players 'InDaNuts' and the bots controversy to see its not a fair game.
Apr 13, 2016
THe definition of scam
I am a professional poker player, yesterday I won a national live tournament, £150k. But it doesn't matter at all. However I am not able to win constantly with Pokerstars because of the numerous bad beats they are dealing. Last time I played I left a tournament after a "pro" shoved with pocket 2 against my pocket K and he got a straight on the river. It was a $210 buy in Tournament, I was in the bubble.. Never mind, this things are happening live as well but not this crazy often.

Pokerstars is by far a huge internet fraud and Amaya owners shall be asked questions in court. They claim that you have equality of chances but the fraud happens on different bet sizing. For example is very likely that they will take you down when you bet big once, and keep you in the game on small pots.
Apr 6, 2016
Ponzi Scheme
I made a deposit of $20 about a week ago, played down to $13, then I came back the next day and I had $33. My cashier history said there was a $20 purchase, but I had never been on the site since being at $13. I emailed them and got no response so I figured I'd just withdraw the money. I then chopped a small tourney for $63, played a tourney and had a balance of $85. When I tried to make a withdraw, they said I had to wait for the deposit to clear (with I never authorized or requested in the first place). The next day I log on and my account is at $105. You guessed it, another "Purchase" when I had yet to log on that day. I am still waiting on the email response from them. It seems like they are planning on going bankrupt with as much of NJ money as possible. DO NOT GIVE THEM YOUR ACCOUNT INFO. YOU CAN NOT MAKE WITHDRAWS AND THEY KEEP CHARGING WITHOUT PERMISSION.
Apr 5, 2016
rigged
Hi just had another night of bad beats on poker stars. I smashed my other laptop up becasuse i couldnt control my temper because of that site. Its when you deposit cash it seems to shit on you more so as you deposit more. I was in a tournament with 90 people left. for top prize of 2.5k, i was chip leader and had poket kings when a player went all in with kq. So i called and low and behold 2 queens come up and takes half my stack. Next hand i have AK an flop 2 pair so go all in. And get called by someone with pocket 8s and you guessed it the river comes up with and 8. I was then down to 4k chips and thought my luck in when next hand i get delt pocket queens and 2 players go all in one with aj and other with pocket 7. And the flop comes q 5 9 so i smilled and thought my luck had changed but not on jokerstars a king then an ace came out and gave the player a straight. What do you need to do on this joke site to win!!! Ive done nothing wrong and always get punished by the site and it helps bad players. Well i wont be back on this time and i advise everyone stop waisting your money on joker stars its a con!!!
Apr 5, 2016
PS total scam
Pokerstars is without doubt a total and absolute scam.
Do not play this site. You will get robbed. Mathmatical odds and probabilities never lie. .. Over the course of 5 years i have collated info on Pokerstars. Nothing stacks up except an extraordinay consistent highly inprobable algor8ythm that 9can only have been designed for one purpose.... To relieve you of yout money......
Apr 5, 2016
audit
i lost the plot on the site after winning 2 decent prizes in a row.. 2 final tables. i withdrew surprise surprise and then after that i couldnt get going in any tourny. after reading some comments behind me i cant help but thnink why i couldnt win after withdrawing....... example is losing 6/7 times all in pre flop with AA vs AK and underpairs.
but anyway, i sent them an email and said to them i wanted them to get a full audit of their site to prove they arent rigging the deck after they shuffle ( i knew they shuffled the deck, but not what they do after the shuffle ) and eventually they suspended my acount.. seems i may have struck a nerve with them.
they told me i have to agree to the terms of service before i can play again... but they havnt responded to my emails accepting the terms, this has been 2 days now.
i had a look at the tournys i really tried at and worked out rougly i was giving my opponents 30% for all my critical all ins, yep, and losing 80%+. its beyond me howe this can be. and its been going on for years ffs!
i cant recall the last time i had that feeling of running true... never mind running good!
this needs to be taken to the political level were we can encourage support for a full online poker audit. we are clearly being scammed in one way or another.
Mar 29, 2016
would a real person do this ?
Over Easter I played on Pokerstars several times ... In two tournaments ... NL Turbo Knockout .. 9 players ...
.
I reached the final table ... and then ... Heads Up ...
.
The first tournament ... dealt AJ ... so I went "all in" ... a bet of approx 8,000 ... my opposition called:
.
9 - 6 off suit .... made the straight !
.
The next tournament ... AK ... again "all in"
.
Again the opposition called
.
5 - 8 off suit ... made two pair
.
I am not asking the odds of this happening
.
I am asking:
.
Would any "real poker playing person", on the final table, heads-up, call an "all in" bet with:
.
9-6 or 5-8
.
I can not believe that in a "Cash" game, someone who was capable of "Heads Up" on the Final table would ever make such a call !!!!!!!
.
Yet it happened twice to me with different players
.
Sorry, but that makes me feel that something is wrong
Mar 29, 2016
PokerStars used to be a pretty good practice site. I keep my own hand histories and while you can still practice there, i'veseen a shift since they started selling play money chips. It benefits them to move players who are still playing with chips they earned prior to play chip selling over to paying customers. And they do this by making you lose your play money chips. Then you have to buy play money chips in order to play. That's their goal.
Mar 29, 2016
Can you smell it? Yes, it's Jokerstars
1 - Who keeps his source code hidden by everyone?
I mean ofcourse you HAVE to hide it if it is like a video game or generally a program that does something complicated and you don't want anyone to make a replica of it and sell it, but with poker clients, it is different. Pokerstars doesn't make money BECAUSE of the pokerstars client but rather because of the poker itself, so why hide the source code? Of course maybe you believe people preffer pokerstars because of the beauty of its interface and I am willing to accept that, but at least they should show the RNG part that "decides" the cards, and not have it approved by shady 3rd party companies like they say in their site.
2 - Who really CAN'T see the action flop phenomenon everyone is talking about?
I have played live and the amount of players that connect with a particular flop on a 9-seat table on pokerstars is simply incredibly high. It happens A LOT. For example you can slowplay trips in live poker because you know it is highly unlikely they will improve more than you, I mean it's a legit tactic, but you can't do that on Pokerstars, if you flop trips you must bet big, go all-in or raise big because if you wait it's likely that you will lose the pot eventually to something crazy. In live poker I get many times frustrating because I can't hit a flop or something but that never happens on Pokerstars,I hit many times but many times I have just the worst "hit".
Mar 29, 2016
scam.
Something is definitely going on, on pokerstars,, I am sick and tired of dedicating my time and life to theese scamsters, manipulating with my mind and pokerabilities,, its so amazing how many times i`ve experienced loosing with AA or KK etc. The underdogs are highly favourised and wins often,, the setups are continously unbelievable,,, i have the exats same experinces after cashout i begin to loose,, its stunning how often people report about this,,,, im not in a fkkn doubt anymore,,,, god damn scamsters earning so much money allready,,,